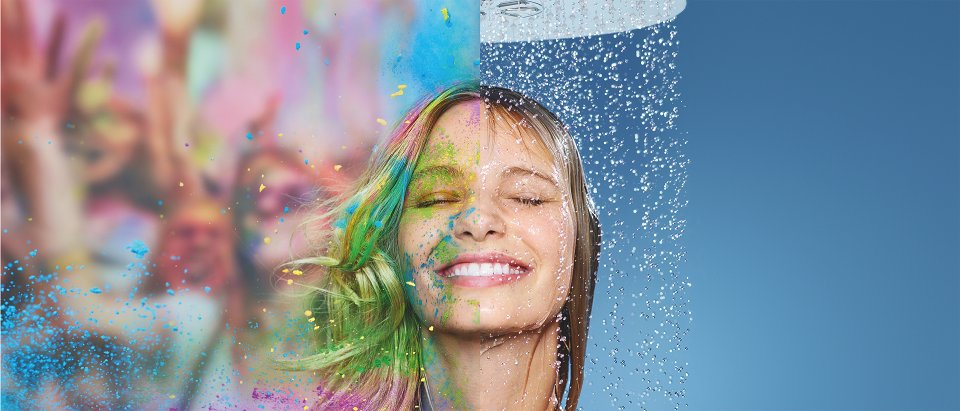 IEPAZĪSTI PRIEKU, KO SNIEDZ DUŠA
Izmantojiet visas ūdens īpašības, lai izveidotu savu unikālo dušas pieredzi. Liela vai īpaši liela, griestos iebūvēta vai pie sienas stiprināma dušas galva – GROHE dušām un termostatiem ir pieejamas visdažādākās formas, dizains un izmēri, no kuriem ikviens nodrošinās Jums gandarījumu un prieku.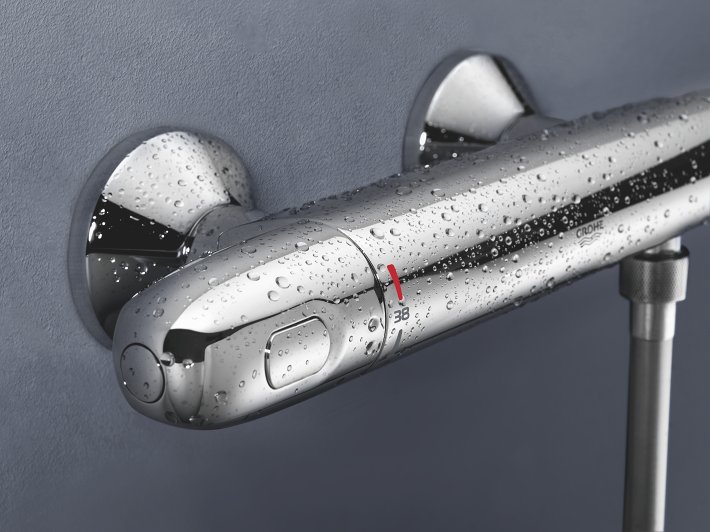 GROHE

TERMOSTATA TEHNOLOĢIJA
NEVAINOJAMAS DUŠAS NOSLĒPUMS
Izstrādājot dušas un termostatus, GROHE zina, ka nav precīzākas tempertatūras mērauklas kā cilvēka āda. Mūsu dušu un termostatu klāsta inovatīvie termostati nodrošina, ka karstais un aukstais ūdens pieskaras jūsu ādai tieši jūsu izvēlētajās proporcijās. GROHE TurboStat ir tehniski advancēta funkcija, kas nodrošina vēlamo dušas temperatūru dažu sekunžu laikā un saglabā to nemainīgu visā mazgāšanās laikā.
GROHE

SMARTCONTROL
JAUDĪGA, PATĪKAMA MAZGĀŠANĀS AR PILNĪGU KONTROLI
GROHE SmartControl ir inovatīva dušas vadības sistēma, kas ļauj ērti regulēt ūdens plūsmu un temperatūru, izvēlēties vēlamo plūsmas veidu, kā arī galvas vai rokas dušu. Vienkārši pagrieziet GROHE ProGrip rokturi, lai palielinātu plūsmu no ekonomiskā režīma līdz pilnai ūdens jaudai, vai pagrieziet to uz leju, lai samazinātu plūsmu. Ja vēlaties apturēt ūdens plūsmu, piespiediet to. SmartControl pat ļauj saglabāt iestatījumus nākamajai lietošanas reizei.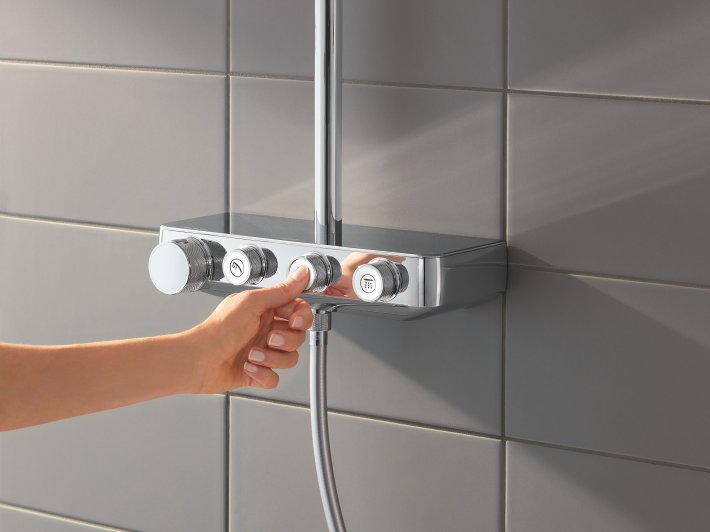 Nospiediet pogu, lai ieslēgtu dušu.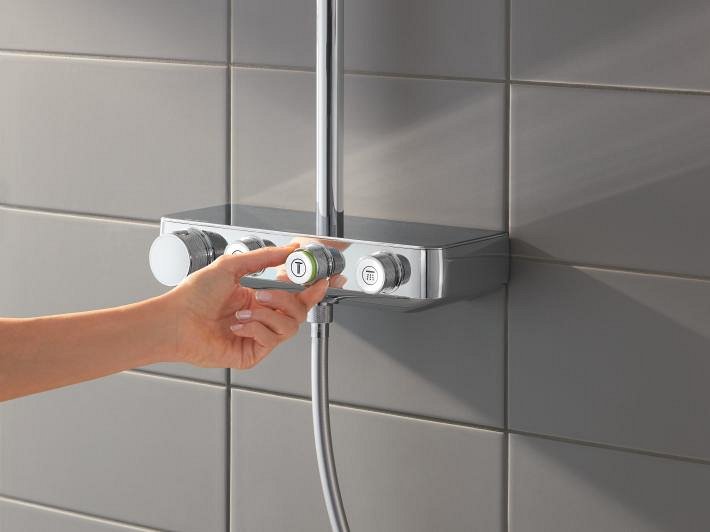 Pagrieziet, lai pakāpeniski noregulētu ūdens plūsmu no ekonomiskā režīma līdz pilnai ūdens jaudai.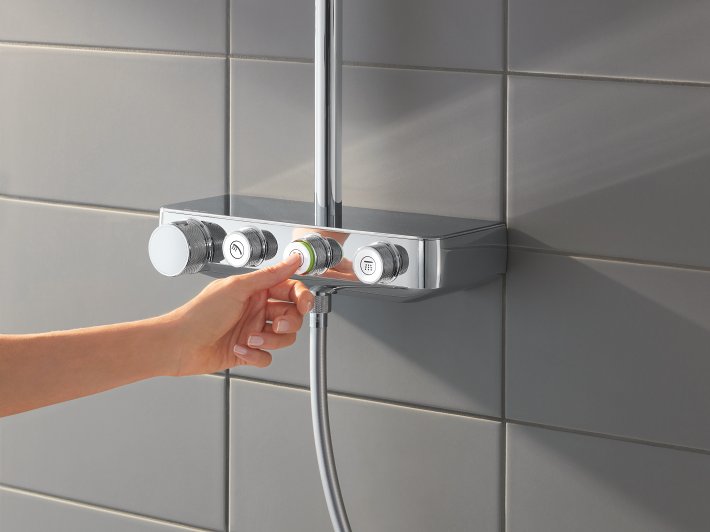 Nospiediet vēlreiz, lai izslēgtu vai uz laiku apturētu dušu. Atkal ieslēdzot dušu, saglabājas iestatītā ūdens plūsma.
GROHE

DUŠAS ŪDENS STRŪKLU VARIĀCIJAS – UZMUNDRINOŠU VAI RELAKSĒJOŠU?
Mūsu radītais unikālais dizains sadala ūdeni vienādā daudzumā starp visām sprauslām, nodrošinot vienmērīgu plūsmu. Tāpēc, lai kāds būtu Jūsu iemīļotākais plūsmas veids – lietus, SmartRain, strūklas vai masāžas – variet būt droši, ka to varēsiet izbaudīt pilnvērtīgi. TrioMassage un ActiveRain plūsmas veidi ir tikai daži no GROHE DreamSpray tehnoloģisko inovāciju piemēriem.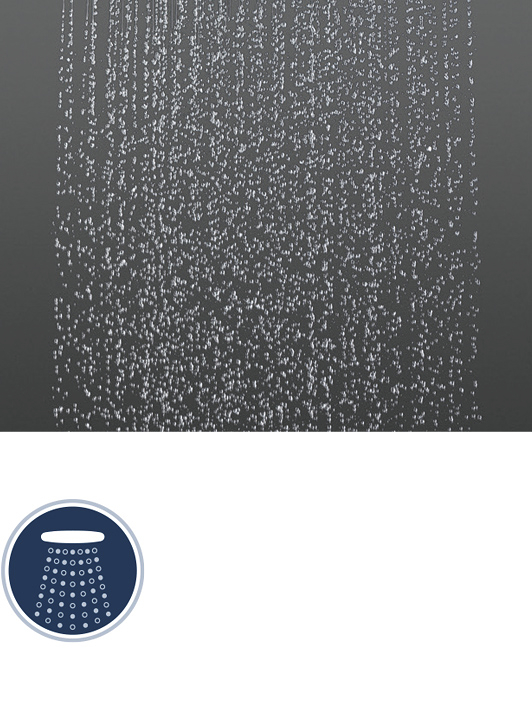 LIETUS
PLŪSMA
Plata un komfortabla – maiga, saudzīga plūsma, kas patīkami nomierina ādu. Šis plūsmas veids atgādina vasaras lietu un pilnībā ieskauj ķermeni.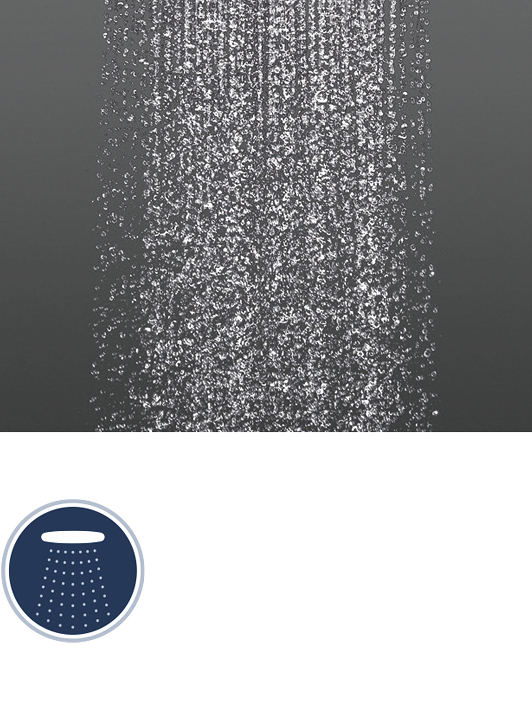 SMARTRAIN PLŪSMA
Visas lietus plūsmas funkcijas un priekšrocības, bet ar samazinātu ūdens daudzumu. Gudrs plūsmas veids, kas ļauj pilnvērtīgi izbaudīt dušu, patērējot mazāk ūdens.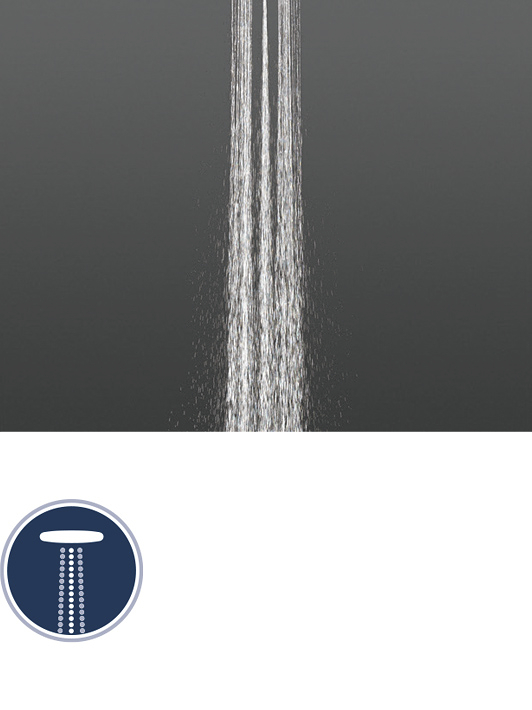 ACTIVERAIN
PLŪSMA
Inovatīvs plūsmas veids sasprindzinātu muskuļu atslābināšanai vai šampūna izskalošanai no matiem.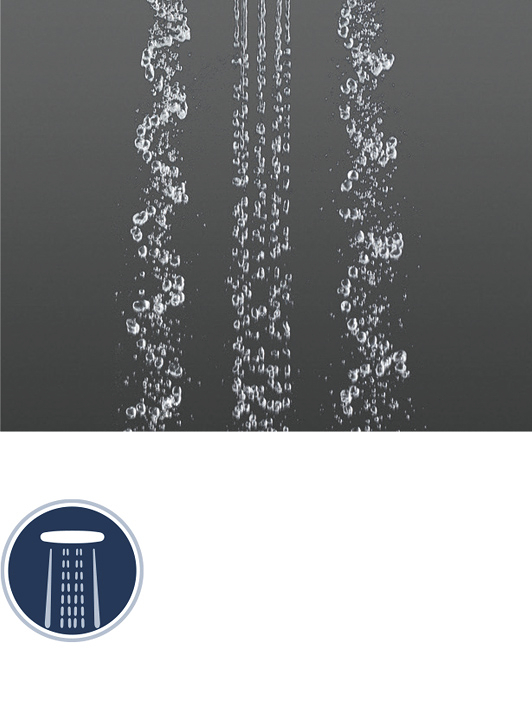 TRIOMASSAGE
PLŪSMA
Slavenās Bokoma plūsmas un divu masāžas veidu kombinācija vienlaicīgi piedāvā galvas un plecu masāžu.